Becki Forsell Receiving the Joe Sanchez, Jr. Leadership Award
YES! is here to enrich persons living with disabilities via our educating outreach and programs allowing them to live engaged lives as members of their community. With YESunited.org, we have made available to you helpful resources, outreach opportunities, and information on how you can get involved by volunteering, joining YES!, or donating your time and/or resources to further our mission.
Please contact us with any questions you may have about how YES! can help you to find ways to live an enriched life as a fully integrated person within your community.
Grand Opening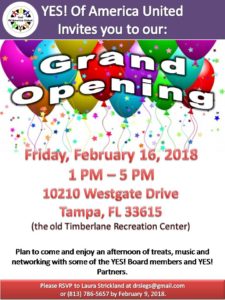 2017 Partners and Sponsors