YES! of America United | Welcome!
Welcome to YES! where we give a Hand-up, not a Hand-out! Tweets by @YESUnited YES! is here to enrich persons living with disabilities via our educating outreach and programs allowing them to live engaged lives as members of their community. With YESunited.org, we have made available to you helpful resources, outreach opportunities, and information on how you can get involved by volunteering, joining YES!, or donating your time and/or resources to further our mission.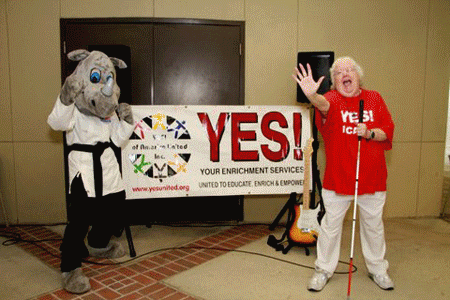 In the About section of the site, we have an introduction to our Programs, the history of how we got started, and where we are going. We have a link to our Disability Awareness program , and our annual F.A.I.R.--Family Abilities Information Rallies. YES's signature event, the F.A.I.R., is being held on October 3rd, at the begining of Disability Awareness Month.
Please contact us with any questions you may have about how YES! can help you to find ways to live an enriched life as a fully integrated person within your community.
WEDU awards Founder and CEO Becki Forsell with Be More Vocal !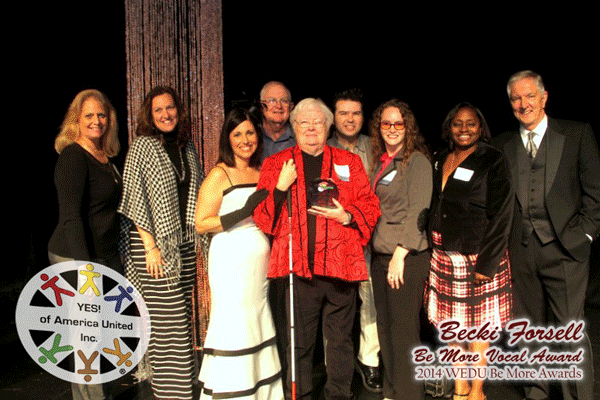 We are so excited to announce the exiting news! Our dear Founder and CEO of YES! of America United has been awarded the Be More Vocal by WEDU on February 20th, 2014 for the Be More Awards.
WEDU archives their video of the Awards ceremony and we are excited to share this short programming with you as she receives the Be More Vocal award. Steve Otto, Tampa Bay Tribune columnist, announced the winner.
What does Be More Vocal award mean? WEDU states it as: "This [Be More Vocal] award recognizes an individual, family, or organization that has lent a unique voice to bring awareness, credence, support, or action to an issue." We believe Becki really embodies this award, and we are very thankful that the community recognizes her too.